groov EPIC
---
IIoT Ready
---
OEM Suitability
---
Industrial IO
---
---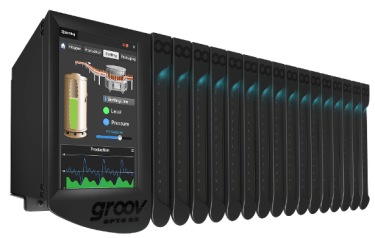 Opto 22 launch the world's first edge programmable industrial controller: groov EPIC
Industrial modular intelligent I/O, real-time Linux-based automation controller, and edge gateway in a single stainless-steel chassis
UL Hazardous Locations approved and ATEX compliant
Integrated high-resolution colour touchscreen with HDMI output for optional external monitor
Compact footprint with integrated power supply and dead-front design
On-board system configuration, commissioning, and troubleshooting; no PC required
Remote configuration and troubleshooting from any web browser on any device
Dual, independent Gigabit Ethernet network interfaces
Dual USB ports for serial communications, touchscreen monitors, or WiFi adapters
Multiple power supply options including AC, DC, and pass-through
Wide -20 to 70°C operating temperature range
Touch-sensitive pad on I/O modules for configuring, commissioning, and testing
Spring-clamp terminal strip directly atop I/O module accommodating up to 14 AWG wire
LED indicators for module health at a glance, and for individual discrete channels
I/O module density of up to 24 channels per module
Multi-featured analogue inputs supporting voltage, current, and loop sourcing in single module
Analogue input resolution of 20 bits at 0.1% accuracy over span
Channel-to-channel isolation available for most I/O modules
Real-time, open-source Linux OS running on an industrial quad-core ARM processor
2 GB RAM, 6GB user space on industrial solid-state drive
The groov EPIC – Edge Programmable Industrial Controller
The groov EPIC from Opto 22 evolved from a need to address the automation problems the industrial, process and manufacturing automation sectors face every day: security, access to data, connectivity, programming limitations, and implementation issues largely attributed to challenges with IT personnel.
There is a new breed of engineer and developers coming into the automation space. They expect openness, software options, and mobility – all baked in, not bolted on!
The groov EPIC is more than an Automation Controller
At first glance, groov EPIC appears similar to a PLC (programmable logic controller) being chassis based for IO (input/output modules) and a processor. However, a deeper look reveals a high-resolution display offering a full management interface to the controller, its IO, and all software running locally on the device.
But do not judge this book by its cover! Looking under the hood reveals the true power of EPIC. A broad and useful array of software capabilities, including a mobile and web-based HMI server, OPC UA drivers for connection to standard, popular PLCs; MQTT publish/subscribe communications with Sparkplug payload; a real-time control engine; and an IBM-developed but now open source data flow editor and runtime called Node-Red.
The groov EPIC is also the first full-featured industrial controller of its kind with Inductive Automation's Ignition Edge Onboard for connectivity and communications!
EPIC in Automation
The groov EPIC can be utilized in many traditional automation areas, which include:
Custom Equipment
Distribution
Lab and Laboratories
Office and Building
Medical and Pharmaceutical
Food and Beverage
Energy and Utilities
RTU (Remote Telemetry Unit)
What is Automation Equipment?
Automation equipment is simply any hardware that can be configured/programmed to automate a task, which is normally done manually.